Wyoming High School
Class of 1962
Wyoming, Ohio, USA
---
Welcome to WHS '62 Grads, Family, and Friends Web Site!
Bookmark this page as the Front Door of our site and your starting point for each visit.
---
2017 Reunion
---
Hello, my name is Jim Barre '72, and President of the Wyoming High School Alumni Association.
We look forward to seeing you at the Round Up. We would also like you to register on our networking website.
The link is: wyominghighschoolalumni.com. Please take the time to sign on to the site.
We no longer send the ECHO, all of the information in the ECHO is now on our website.
Always a Cowboy,
---
---
Remembering Together - June, 2007
---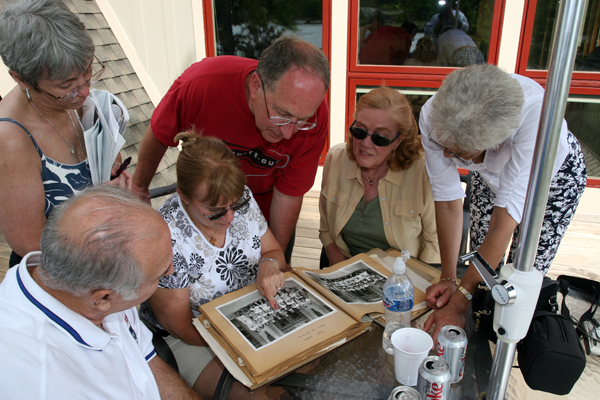 ---
From Lower Left: Phil, Adrienne (Mrs. Phil), Mary, Frank, Lois (aka Ginger), Alyce
Image by Kjell (Mr. Lois) - June 10, 2007
More June 10, 2007, Images Here
The purpose of this site is to provide a forum for us to communicate with one another, find more of our class members, share images, and announce dates of upcoming events. This site is new as of June, 2007, and will grow as we all contribute to it. Click on the links below and enjoy:
Images of our Dinner at the Iron Horse Inn - June 9, 2007
Class Photos - Kindergarten through Sixth Grade
Old Images of Wyoming and Wyomingites
Post Greetings on our Postings Page
To join the WHS Alumni Association contact our class representative:
Mary M. Melville
---
We have tried, but can't seem to find some of our classmates.
If you see your name here or if you know how to contact any of these people, please contact our class representative, Mary Melville.
Bob Blattner
Sharon Newburg
Mary Jo Paul
Mary Ann Westerling
---
We fondly remember our deceased classmates:
Carol Bass
Randy Collins
Barb Doan
Floyd Edie
Jerry Guiseffi
Marty Lazarus
Henry Myers
Bill Patterson
Barb Packard
Dianne Rettig
Tim Sawtelle
Brian Schierloh
---
Wyoming High School Class of 1962
Wyoming, Ohio, USA
Copyright © 1994 - 2012 by Lois A. Evensen for the exclusive use of WHS '62 Graduates.
---
COPYRIGHT © 1994 - 2012 the entire contents of Evensens.us and Evensens.net by Lois A. Evensen.
No part of this web site may be downloaded or reproduced in any form, anywhere except by permission.
You are welcome to link to this site at http://www.Evensens.us/wominng62.html. Do not link directly to images.
All content including images on this site are copyright protected under United States of America and International laws.
ALL RIGHTS RESERVED.
---

United We Stand