The Evensens on the Internet
Front Door - Personal Home Page - Quick Reference/Archives
Copyright © 1994 - 2009 by Lois A. Evensen, the entire contents of this site.
---
Royal Caribbean's
Splendour of the Seas
Returns to Venice
May 22 and 23, 2000
Images by Kjell T. & Lois A. Evensen
---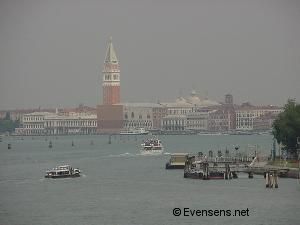 On May 22, we sailed into misty Venice. We had been there twelve days
before and had taken a great many digital photos during that visit.
Once again, my husband, Kjell, and I passed our Sony MVC-FD88 Digital Camera back
and forth to capture the images here. And, once again, there are a great many
images so if they don't all load the first time, please click refresh or reload on your browser.
Emphasis is placed on the variety of Venetian doors, windows, and bridges for this collection.
Each image can stand on its own as a treasured memory of Venice. We welcome you to
take a leisurely trip through Venice via this photo journal enjoying the images individually and collectively.
---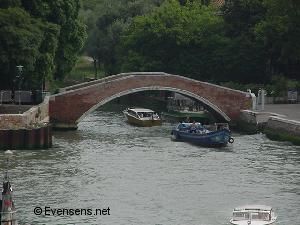 These first images are taken from Deck 4 of Splendour upon our morning arrival.
---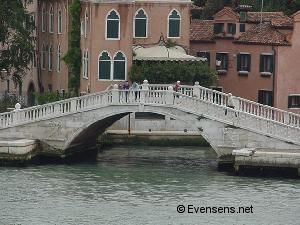 Most Venetians were going to work. There were few tourists on the streets at this hour.
---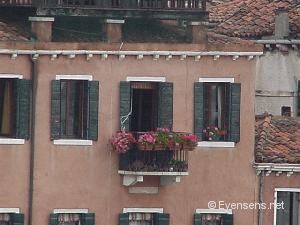 The zoom on our camera allowed for close views of Venice from our location
onboard Splendour as we passed the city to our docking space on the other side.
---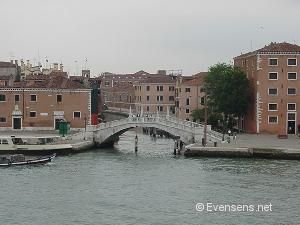 ---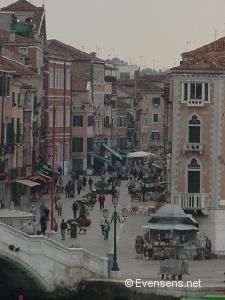 ---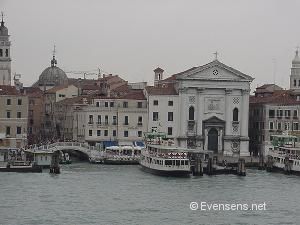 To see and hear a short film clip of our entry into Venice, click here. On the clip you
will hear the voice of the port lecturer, the wind, and the ladies standing beside me.
---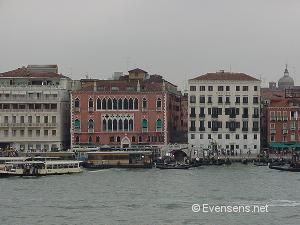 ---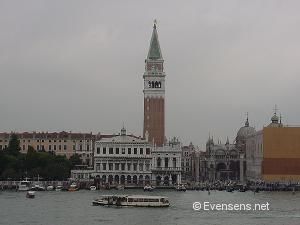 ---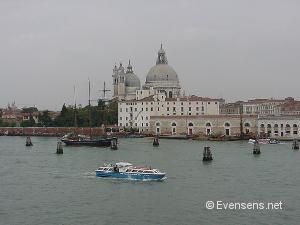 ---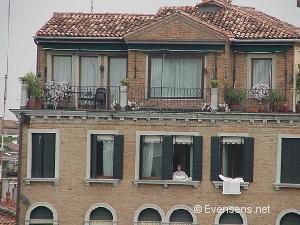 I am fascinated by the doors and windows of the places we visit. As the residents look out to watch
Splendour of the Seas elegantly glide past, we are looking at their lovely homes and city.
---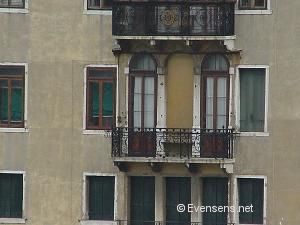 ---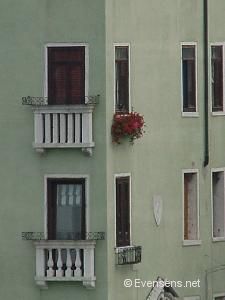 ---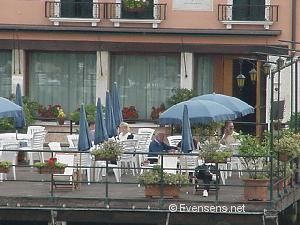 Later in the day this restaurant built over the canal will be crowded.
---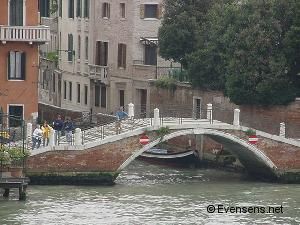 ---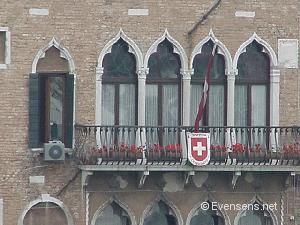 ---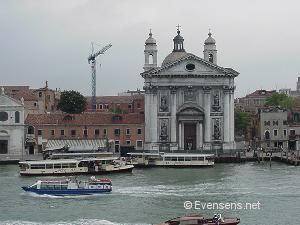 ---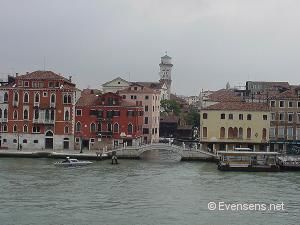 ---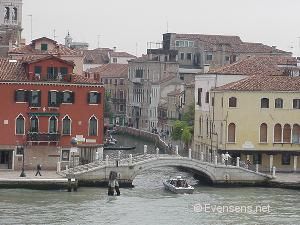 ---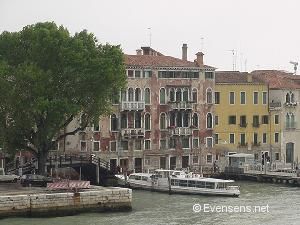 ---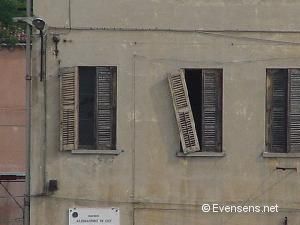 Many of the buildings and windows are in need of repair,
yet they offer their own artistic contribution to the sights of Venice.
---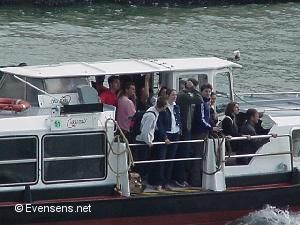 People are on the way to work via water bus.
---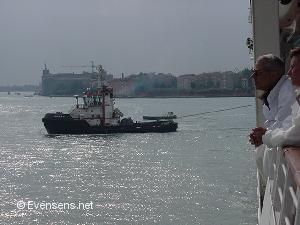 This tug helped Splendour back into her space at the dock. We were on the
other side of the same commercial dock where we had been twelve days earlier.
---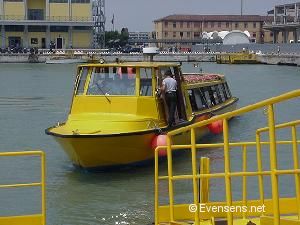 This is the water shuttle we took to the center of Venice shortly after Noon.
---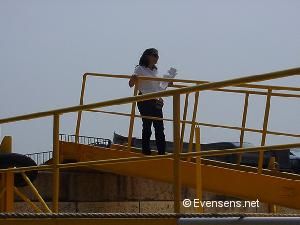 ---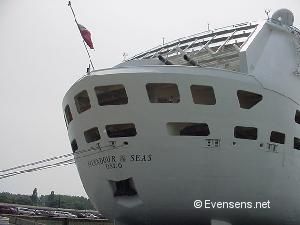 The following is a drive-by photo shoot of Splendour taken from the window of our shuttle.
---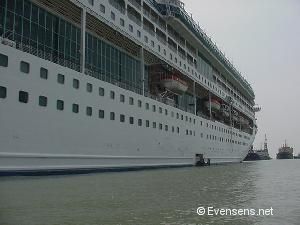 ---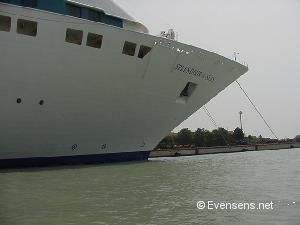 ---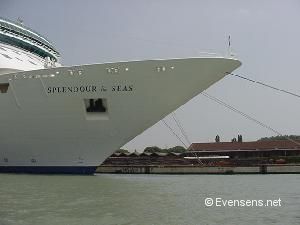 ---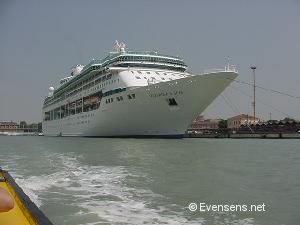 ---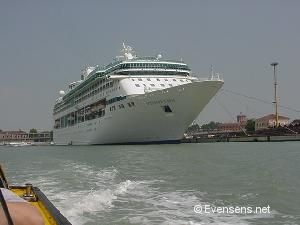 ---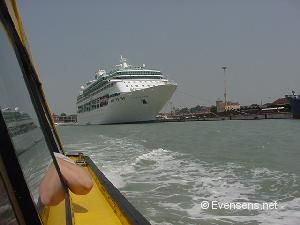 Unless one of her sister ships is nearby to tie up the score, Splendour
always wins the most beautiful ship in port award.
---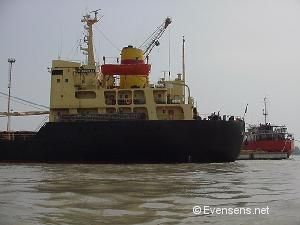 We passed a Russian ship
---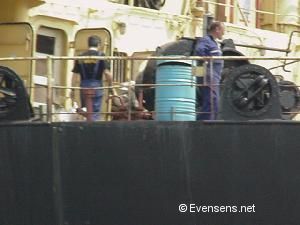 ---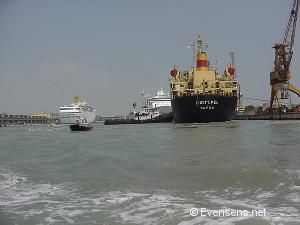 and turned toward the center of Venice.
---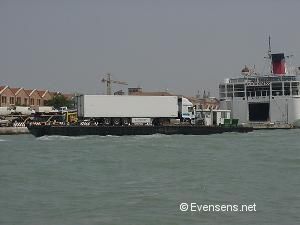 This tractor trailer truck is being moved by canal barge.
The truck driver was watching from his own driver's seat.
---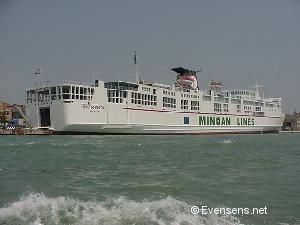 This ferry and similar ones are at this part of Venice where cars are allowed.
---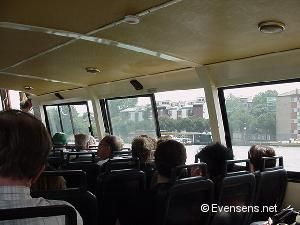 Only water vehicles are permitted in "downtown" Venice.
---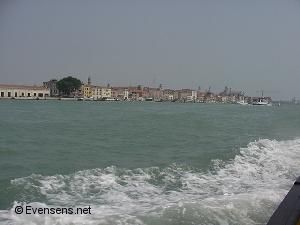 Although I had photographed many of these scenes before,
I couldn't resist clicking the camera a few more times.
---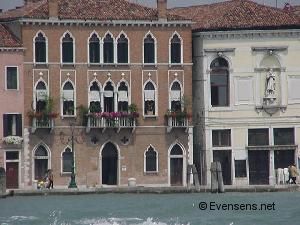 ---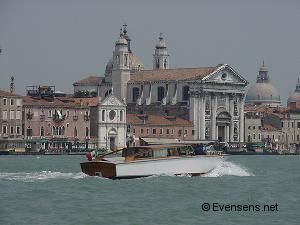 To get a better concept than still images can provide of the sights, sounds,
and speed of the shuttle boat, click here for a short film clip.
---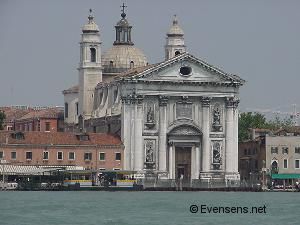 ---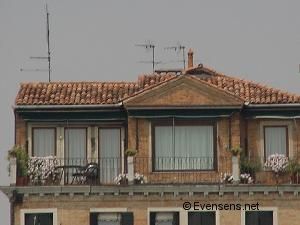 ---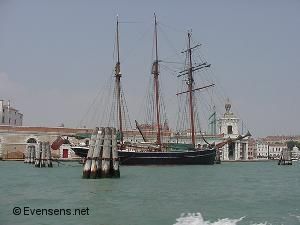 ---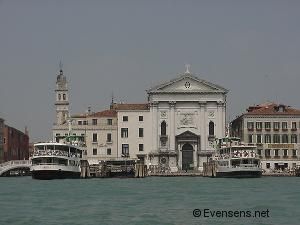 ---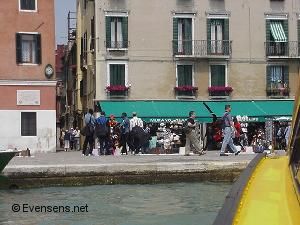 As we approached the dock near St. Mark's Square, we could see the tourists had taken
over the city for another day. Instead of staying on the main routes,
we started our visit this time through that narrow walkway.
---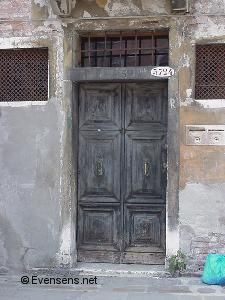 This brought us into a courtyard we had visited in previous years and where
I now wanted to collect more photographs doors and windows.
---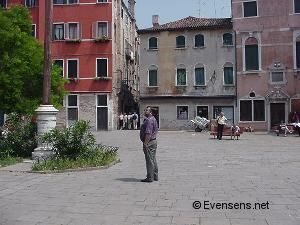 This single square provided a large variety of photos:
---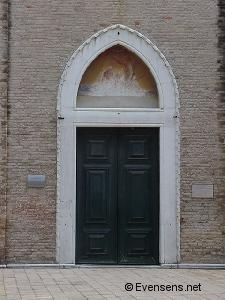 ---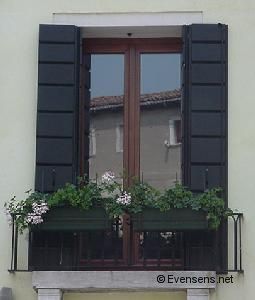 ---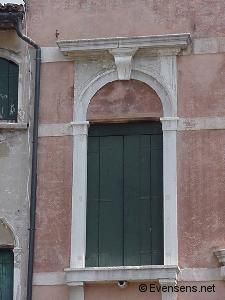 ---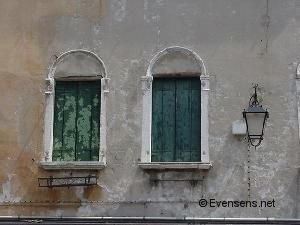 ---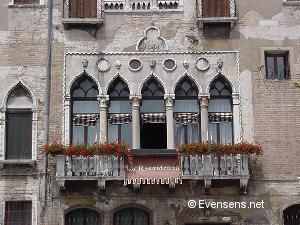 ---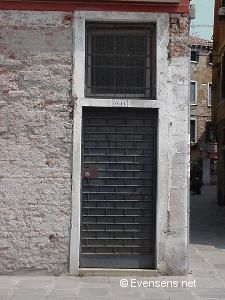 ---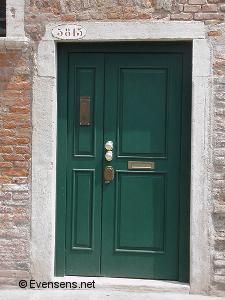 ---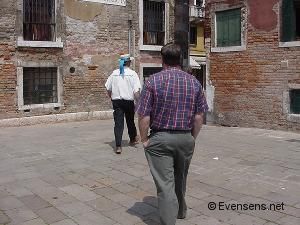 We followed the foot traffic through another narrow walkway
---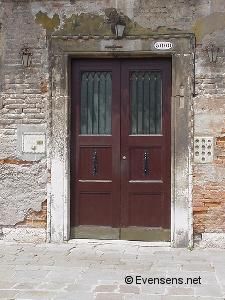 to find even more beautiful and interesting doors and windows in the next street.
---
Note the delicate lace curtains behind this barred window.
---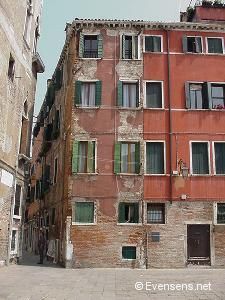 ---
The people of Venice love their flowers and we love to photograph them.
---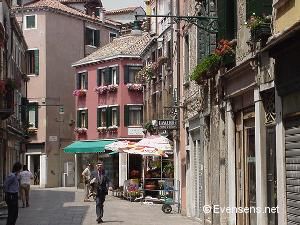 Each time we turned a corner
---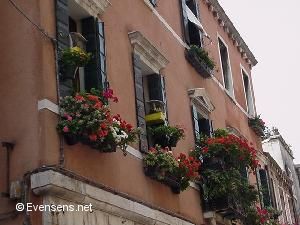 we found more and more for our camera to record.
---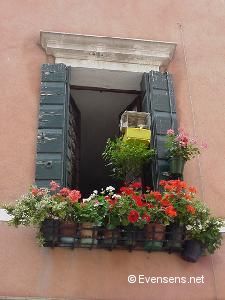 Birds in cages sang beautifully, calling to passersby to look up.
---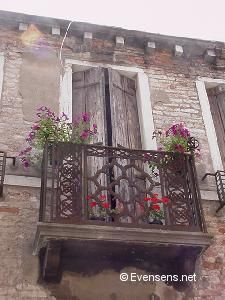 Each door and window had its own personality.
---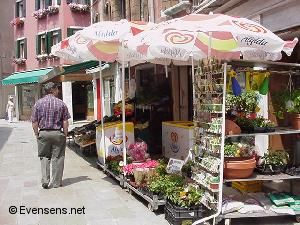 The weather was sunny, breezy, comfortable.
---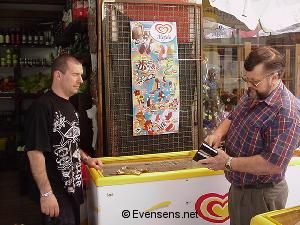 We enjoy ice cream treats every chance we get.
---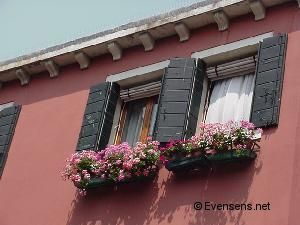 The colors of the buildings
---
seem to have been copied from the flowers.
---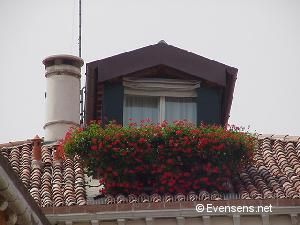 ---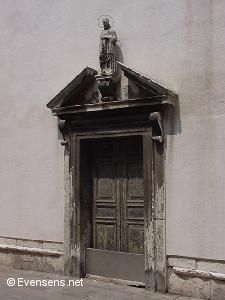 We had wound through the narrow streets
---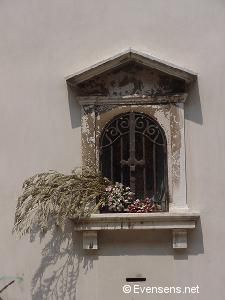 to the back side of St. Mark's Basilica,
---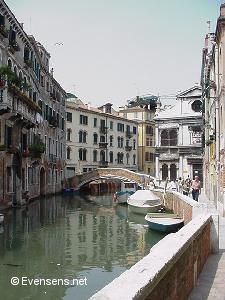 then followed a walkway along a canal away from the main square.
---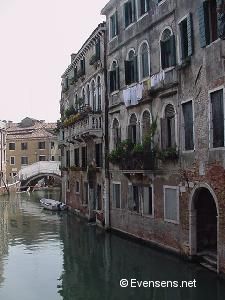 ---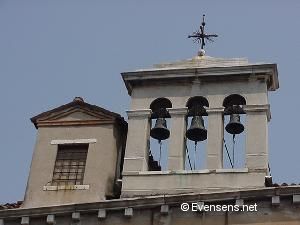 We could hear church bells at all times of the day in Venice.
---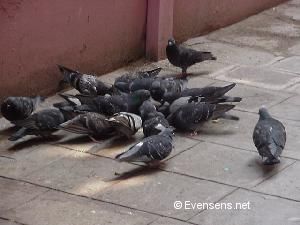 Pigeons zoom in to finish a crust of bread dropped by a tourist.
---
There were endless beautiful doors,
---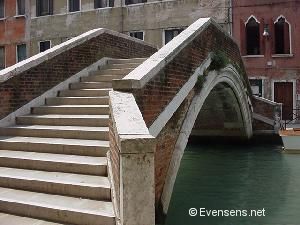 bridges,
---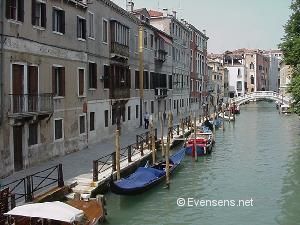 canals,
---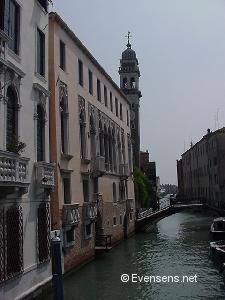 ---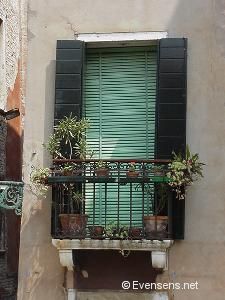 and windows with Venetian blinds.
---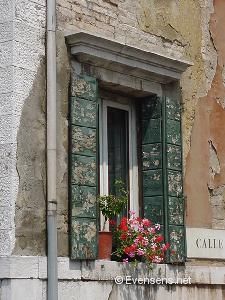 ---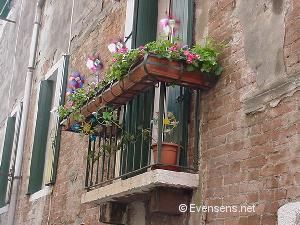 ---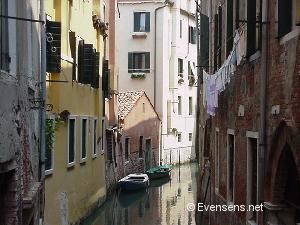 ---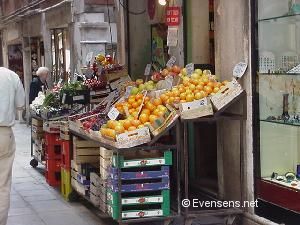 Around another corner is a fruit market,
---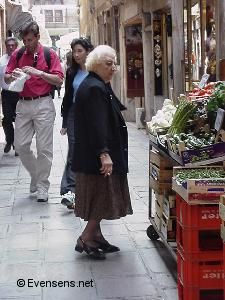 local shoppers, tourists,
---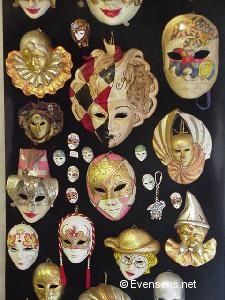 plenty of souvenirs to buy,
---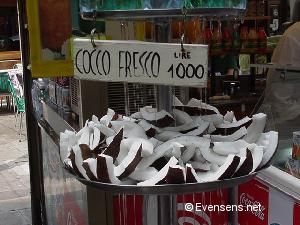 and taste treats.
---
---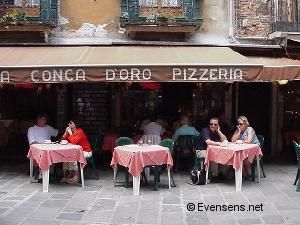 ---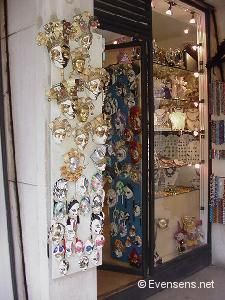 ---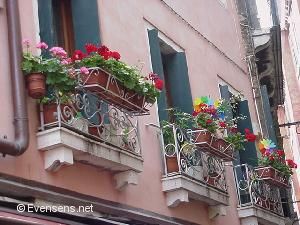 ---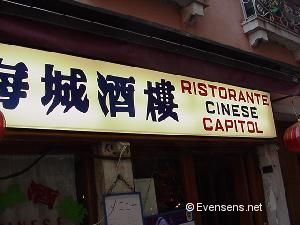 Venice provides a great deal of variety.
---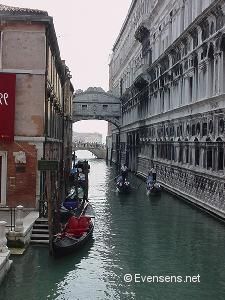 ---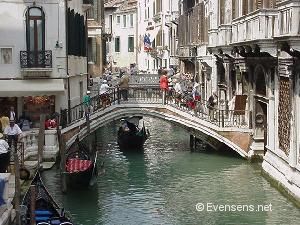 ---
Click here to continue...
---
Surely you can see how much we enjoy Venice;
we hope you have enjoyed our photo tour of this wonderful old city.
---
The Evensens on the Internet
COPYRIGHT © 1994 - 2009 by Lois A. Evensen
Front Door - Personal Home Page - Quick Reference/Archives
Travel Questions? Post them here only.
View the Visitors Comments Page. Add your non-travel comments.
No part of this web site may be reproduced in any form without written permission from its owner.
You are welcome to link to this site at http://www.Evensens.net. Do not link directly to images.
If you have other questions or comments related to this web site, links, or would like to purchase any of the Evensen images, contact the Webmaster.
ALL RIGHTS RESERVED
---
.
United We Stand