The Evensens on the Internet
Front Door - Personal Home Page - Quick Reference/Archives
Copyright © 1994 - 2009 by Lois A. Evensen, the entire contents of this site.
---
Port Report
Quebec City, Canada
September 28, 2000
By Lois A. Evensen
---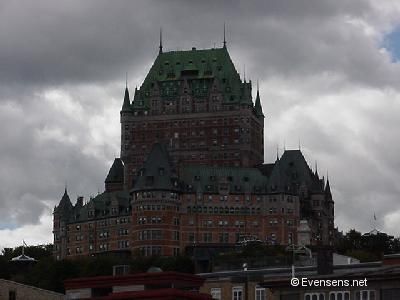 This is an image review of our walk in Quebec City, Canada. My husband, Kjell, and I set off
from Splendour of the Seas on foot, each with a camera in our hands. The images I took are here;
images Kjell took will appear from time to time in the daily featured photo spot on our Postings Page.
We were to capture excellent souvenirs on this cold, crisp Canadian day. Although the light
wasn't the best for the image above, the image captured is a pleasingly familiar skyline silhouette of Quebec City.
---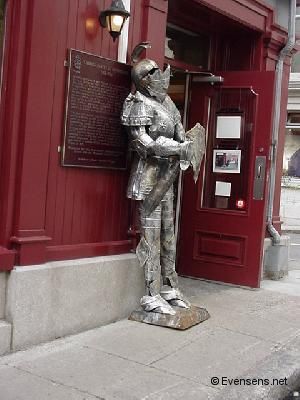 This time we started our visit via a different direction into the city than last year.
Around the first corner, we found this character waiting for us.
---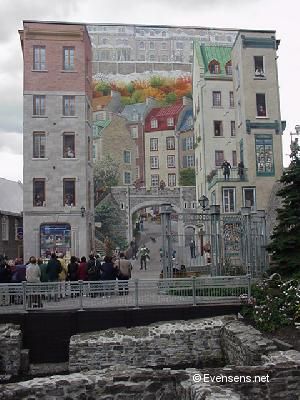 This fantastic mural on the side of a building overlooking early city walls recently excavated tells the story of Quebec.
---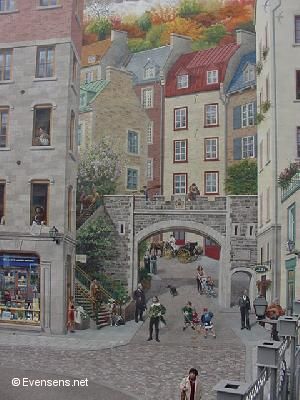 A careful look at the mural reveals individuals representing various times in the city's development.
---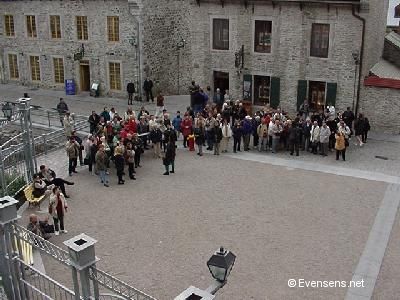 The mural attracts thousands of visitors who photograph it as we did.
---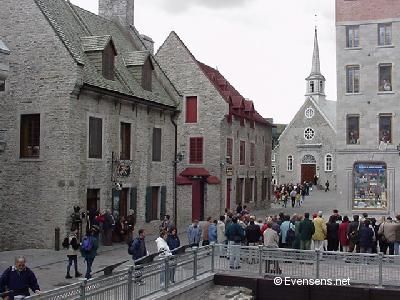 ---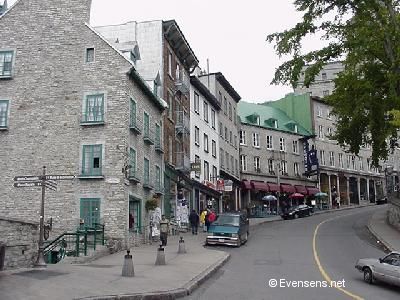 Last year we rode the incline to the top of the mountain.
---
This time we walked up and up and up until we discovered we were at the top where we had been before.
---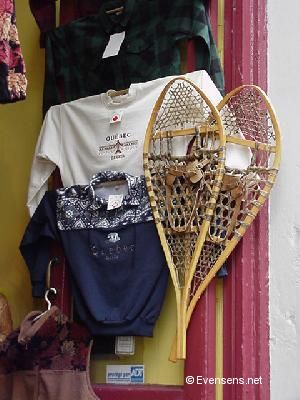 There is plenty to buy in Quebec. As cold as it was this day, snow shoes weren't such a bad idea.
---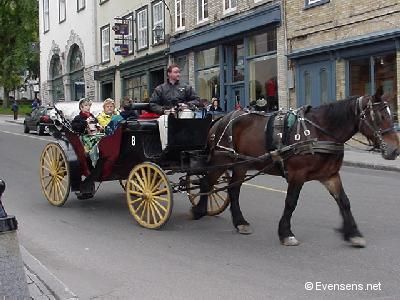 What a lovely way to tour the city.
---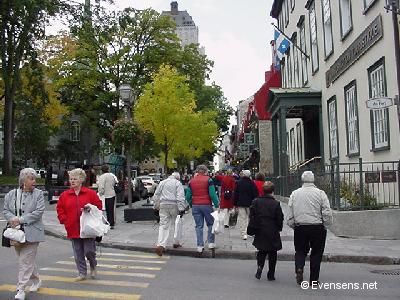 But, there were many more people doing the same as we were doing, exploring on foot.
---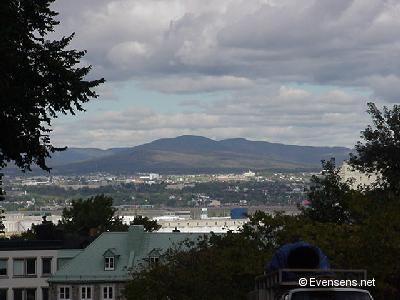 As we climbed higher and higher, the views became more and more dramatic.
---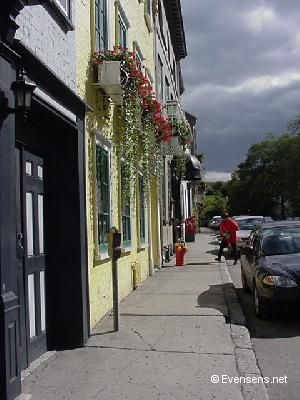 We just strolled with no specific goal in mind. Each street had its own charm.
---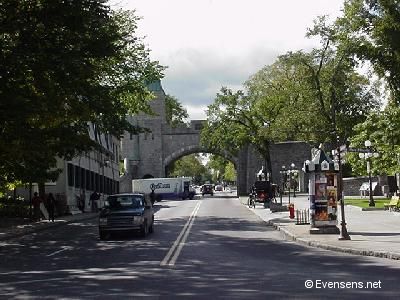 We passed an entrance to the old fort.
---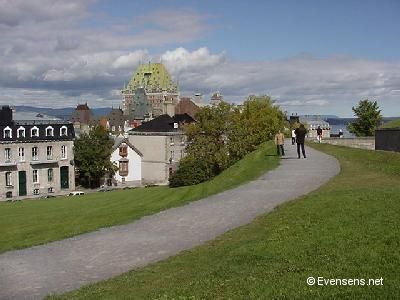 Then suddenly found ourselves walking along a pathway at the top of the fort wall.
---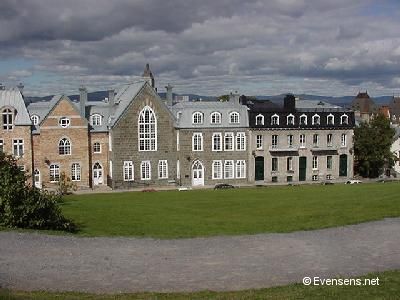 Everywhere we looked was another post card photo.
---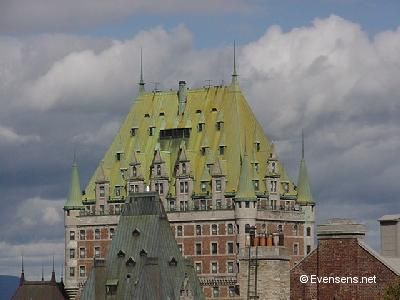 And, we were now on eye level with this famous landmark.
---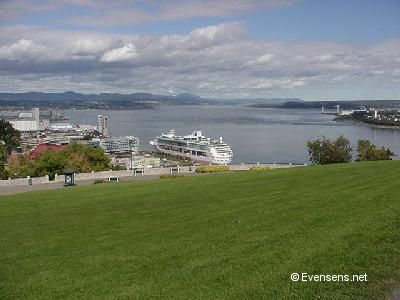 Far below was our ship patiently waiting for us.
---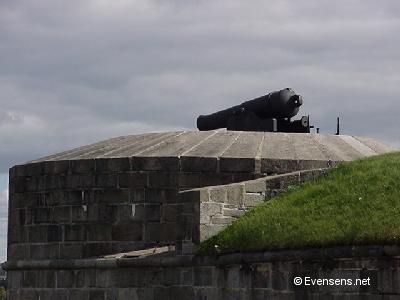 This city was carefully defended against the British.
---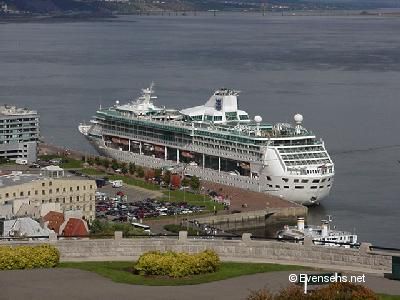 As we moved closer to the river side of the fort, our zoomed images of Splendour became even more beautiful.
---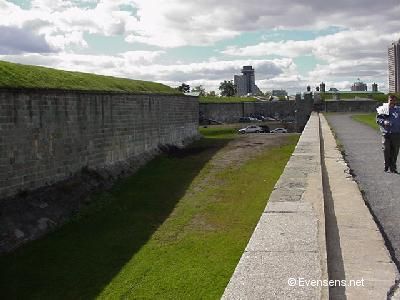 What had been the fort's moat was now a parking area.
---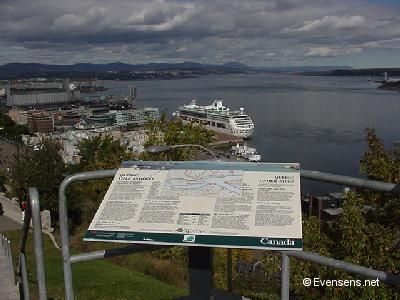 The story of the fort is provided in both French and English.
---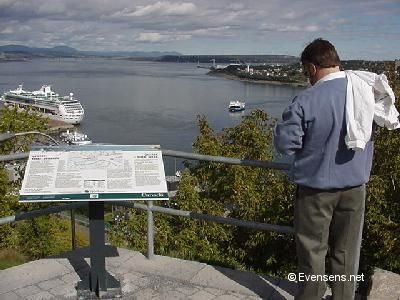 We could not have asked for a better day to climb to the top of this mountain and capture images.
---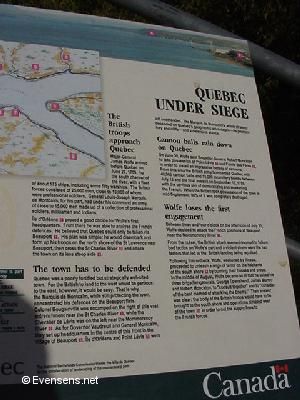 ---
One terrace below us was a lovely area where it is possible to relax and enjoy the view.
We walked down this way...
---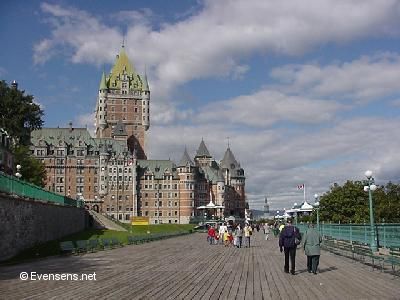 ...to the boardwalk below.
---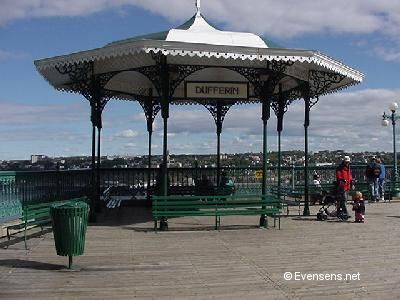 ---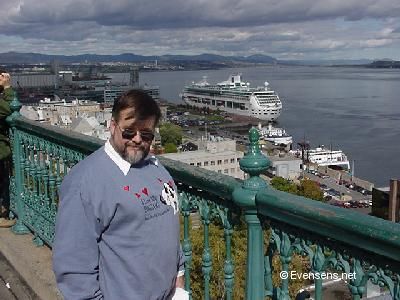 I found still another great place to collect images of Splendour and a very handsome man.
---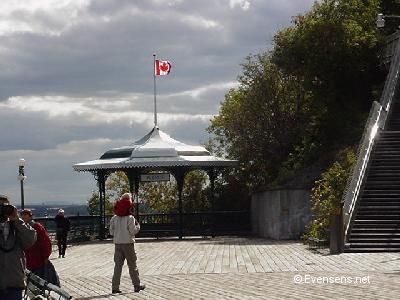 ---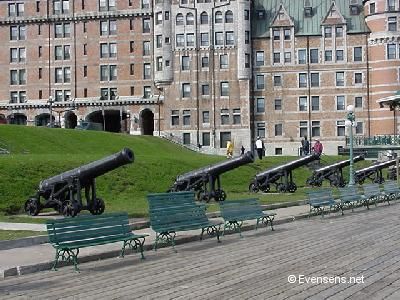 Ships entering Quebec Harbor have to pass under these.
---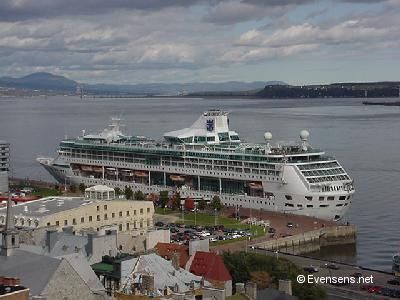 Fortunately, we came in peace. :-)
---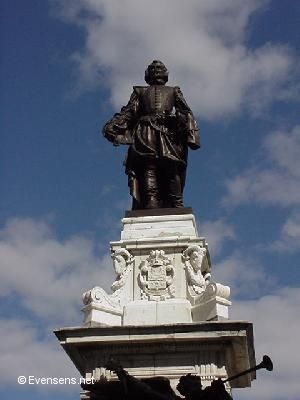 We wound our way back past statues...
---
...and museums...
---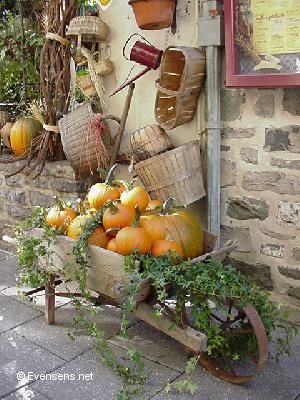 ...and through Quartier Petit Champlain to return to the ship. To see and hear this
wonderful street, click here. The music you hear, "My Heart Will Go On" from Titanic, is that of a street musician.
---
The Evensens on the Internet
COPYRIGHT © 1994 - 2009 by Lois A. Evensen
Front Door - Personal Home Page - Quick Reference/Archives
Travel Questions? Post them here only.
View the Visitors Comments Page. Add your non-travel comments.
No part of this web site may be reproduced in any form without written permission from its owner.
You are welcome to link to this site at http://www.Evensens.net. Do not link directly to images.
If you have other questions or comments related to this web site, links, or would like to purchase any of the Evensen images, contact the Webmaster.
ALL RIGHTS RESERVED
---
.


United We Stand