The Evensens on the Internet
Front Door - Personal Home Page - Quick Reference/Archives
Copyright © 1994 - 2009 by Lois A. Evensen, the entire contents of this site.
---
Oslo, Norway
June 7, 2000
Seagulls of Oslo
by Kjell T. & Lois A. Evensen
---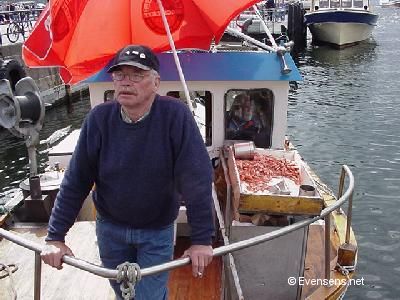 On a cool, partly cloudy day in Oslo, Norway, we purchased shrimp at the dock directly
from this fisherman. In Norway, shrimp is steamed in salt water before it reaches shore.
There is no fresher or better shrimp anywhere.
---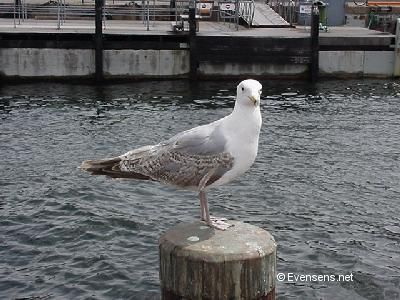 As soon as we sat down on the dock to enjoy the shrimp, we had an audience of hungry seagulls.
Before seagulls develop the distinctive white or white, black, brown adult coloring,
their feather coloration offers some protection. This young gull still displays some juvenile feathers.
---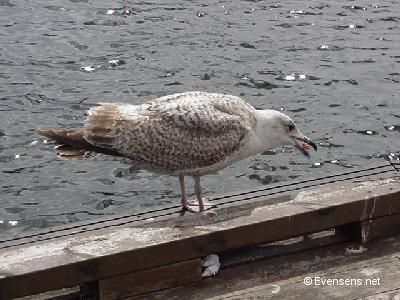 This is an even younger gull.
---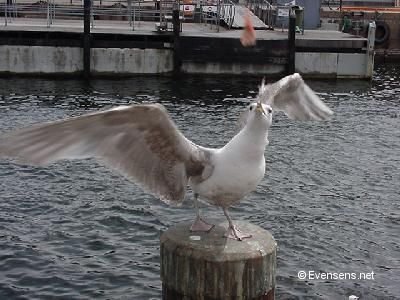 My husband, Kjell, tossed shrimp in the air as I attempted to photograph the action.
The gulls enjoyed the game of timing the toss and the click as much as we did.
---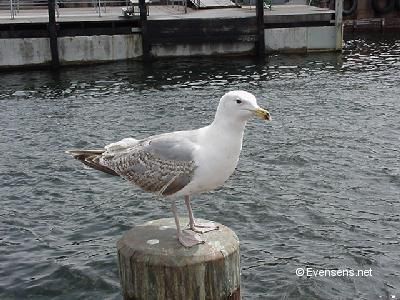 As we tried to peel and eat some of the shrimp ourselves, the gulls watched us intently
---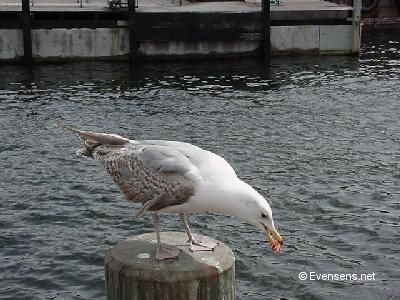 waiting for us to toss another snack their way.
---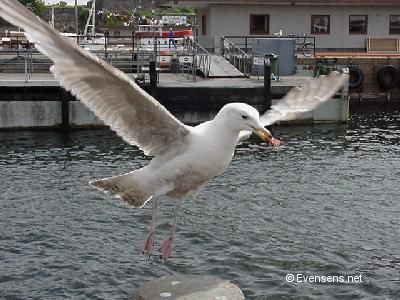 These characters have plenty of practice collecting meals from people delighted by their antics and beauty.
---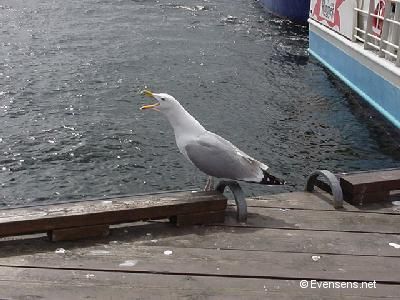 If we didn't toss shrimp fast enough, they screamed and demanded to be fed.
---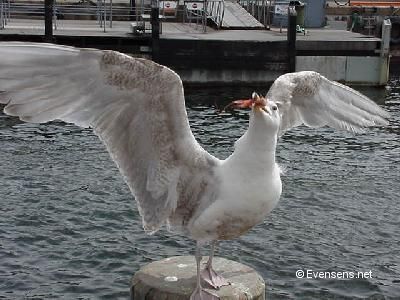 Eating fresh shrimp and feeding the seagulls is always a highlight of our visits to Oslo.
---
Click here for a short film clip to hear and see the gulls.
---
The Evensens on the Internet
COPYRIGHT © 1994 - 2009 by Lois A. Evensen
Front Door - Personal Home Page - Quick Reference/Archives
Travel Questions? Post them here only.
View the Visitors Comments Page. Add your non-travel comments.
No part of this web site may be reproduced in any form without written permission from its owner.
You are welcome to link to this site at http://www.Evensens.net. Do not link directly to images.
If you have other questions or comments related to this web site, links, or would like to purchase any of the Evensen images, contact the Webmaster.
ALL RIGHTS RESERVED
---
.


United We Stand