The Evensens on the Internet
Front Door - Personal Home Page - Quick Reference/Archives
Copyright © 1994 - 2009 by Lois A. Evensen, the entire contents of this site.
---
Splendour of the Seas
Port of Call
Funchal, Madeira
May 1, 2000
Lois & Kjell Evensen
---
Background Image: Flowers of Funchal, Madeira - May 1, 2000
Photo by Kjell T. Evensen; Special Effects by Lois A. Evensen
---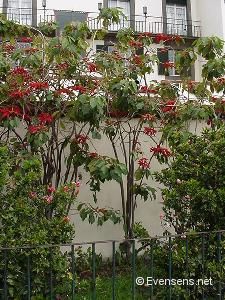 My husband, Kjell, and I feel the best souvenirs of any journey are the photos we bring home.
We each have digital cameras, but we generally carry only one with us and pass it back and forth.
We don't take organized tours preferring to take a shuttle bus or walk into ports
on our own to capture images to enjoy long after we have returned home.
We have visited Funchal, Madeira, before and were happy to be back to photograph some
of our favorite subjects: plant and animal life, architectural styles, and people.
The above mature poinsettia plants fascinated me. In Cincinnati where we live, poinsettia plants
only appear around Christmas as small seasonal plants that disappear with
the season. Here in Funchal, these poinsettias were used as a hedge.
---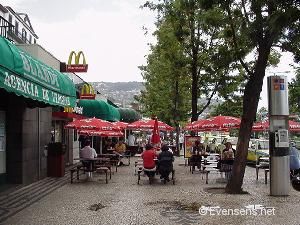 The Golden Arches are here...
---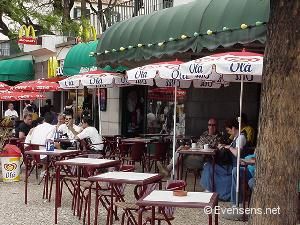 ...alongside restaurants of a more local flavor.
---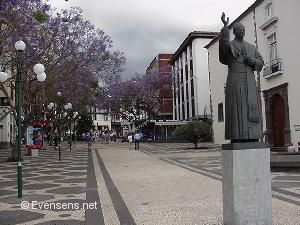 We arrived to Spring flowers lining the mosaic tile streets.
---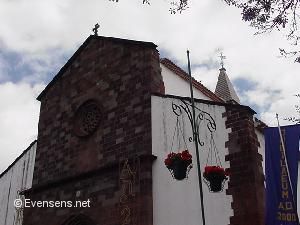 This old church was still decorated for celebration of the new Millennium.
---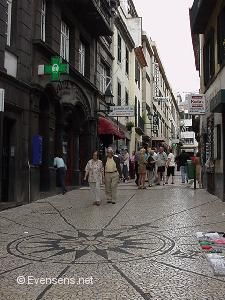 Small side streets were busy with tourists and local inhabitants.
---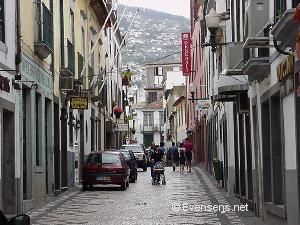 ---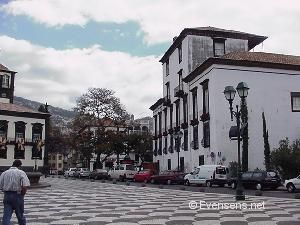 ---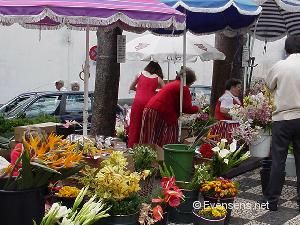 Flowers are everywhere in Funchal....
---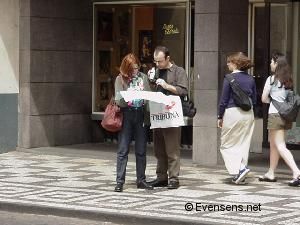 ...as are tourists finding their way through the endless tile streets and beautiful plazas.
---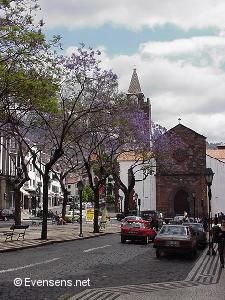 ---
---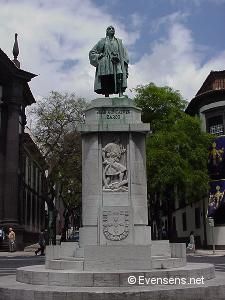 ---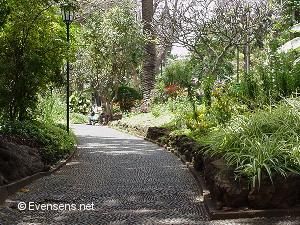 After a fabulous lunch of fish, we revisited this favorite park. It's a very old, established park.
---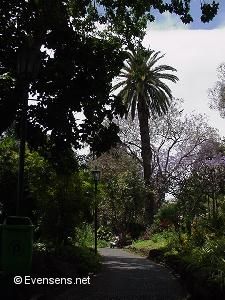 These giant palm trees have been here for hundreds of years.
---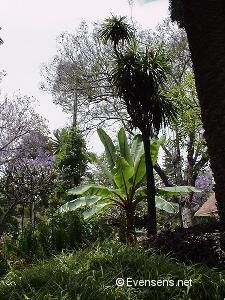 ---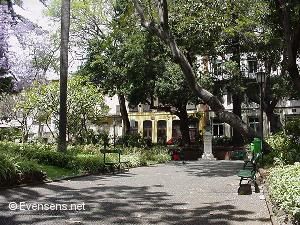 Wide sidewalks and welcoming benches invite visitors to this place of peace and
serenity to pause and absorb the natural beauty around them.
---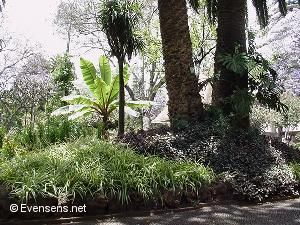 ---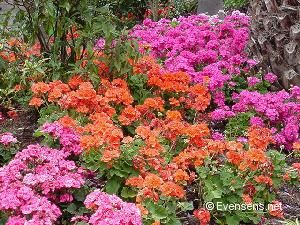 ---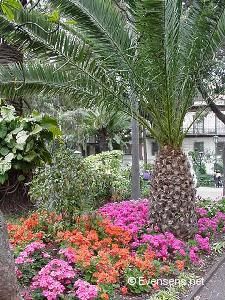 ---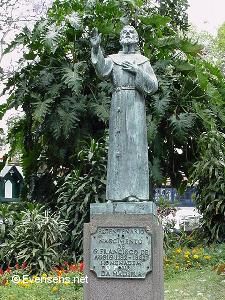 ---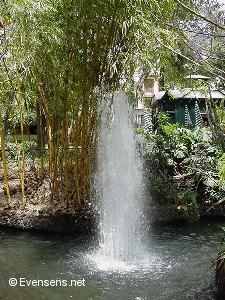 ---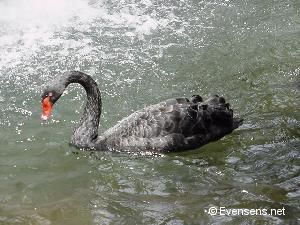 A pair of black swans grace this pool.
---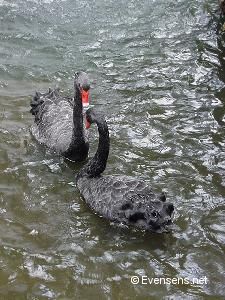 ---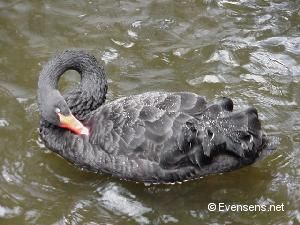 ---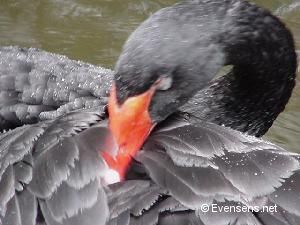 ---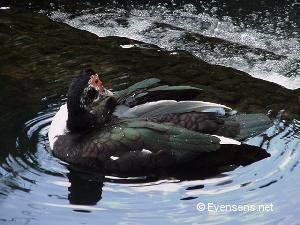 Adjoining pools are homes for other water birds.
---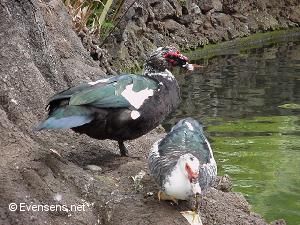 ---
---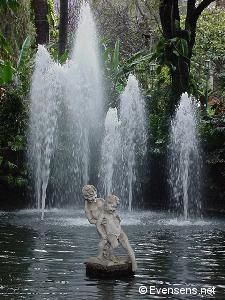 ---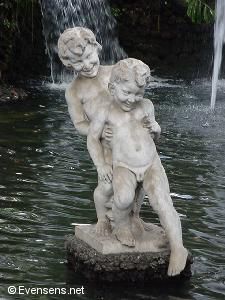 ---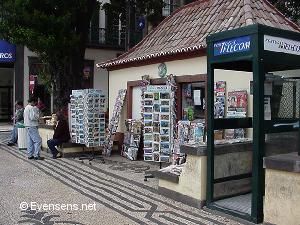 Immediately outside the park is a tourist stand where you can purchase
post cards of what you have just seen and of other places in Madeira.
---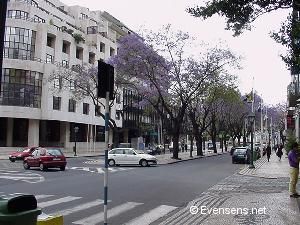 We began our walk back to the shuttle bus that would take us the mile and a half back to the ship.
---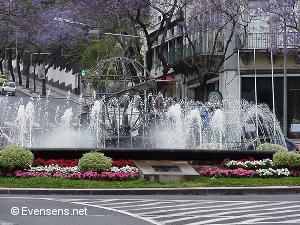 Funchal, Madeira is one of the most beautiful ports of call of Splendour of the Seas.
---
The Evensens on the Internet
COPYRIGHT © 1994 - 2009 by Lois A. Evensen
Front Door - Personal Home Page - Quick Reference/Archives
Travel Questions? Post them here only.
View the Visitors Comments Page. Add your non-travel comments.
No part of this web site may be reproduced in any form without written permission from its owner.
You are welcome to link to this site at http://www.Evensens.net. Do not link directly to images.
If you have other questions or comments related to this web site, links, or would like to purchase any of the Evensen images, contact the Webmaster.
ALL RIGHTS RESERVED
---
.

United We Stand